What We Have Covered in This Article
Last Updated on January 11, 2023 by woodcutter
Yes, you can use a leaf blower for snow. However, it is not as effective as using a snow blower.
Start by clearing any debris from the area you'll be using the leaf blower on
This will help prevent the snow from being blown around and making a mess
Set the leaf blower to its lowest setting and hold it close to the ground
Move the leaf blower back and forth across the area in a sweeping motion until all of the snow has been removed
If there are any stubborn areas of snow, you can increase the power settings on your leaf blower and direct it at those areas specifically
How To Remove Snow With A Leaf Blower
Is a Leaf Blower the Same As a Snow Blower?
No, a leaf blower is not the same as a snow blower. Although both devices are designed to move air, they work differently and have different applications. A leaf blower is a handheld device that uses a small motor to create airflow.
This airflow can be used to blow leaves and debris away from an area. Leaf blowers usually have two settings: low for blowing light debris and high for blowing heavier debris. A snow blower, on the other hand, is a larger machine that is designed for clearing snow from driveways and sidewalks.
Snow blowers have an auger that spins and clears a path through the snow. The auger then propels the snow into a discharge chute where it is blown away from the area being cleared.
How Strong are Leaf Blowers for Snow?
When it comes to snow, leaf blowers can be a powerful tool. While they may not be as heavy duty as a snow blower, they can still pack quite a punch when it comes to blowing snow. Of course, the amount of power that a leaf blower has will depend on the model and make.
Some have more power than others. But in general, most leaf blowers will do a decent job at clearing away light to moderate amounts of snow. If you have a lot of snow to clear, then you may want to opt for a snow blower instead.
But if you only have a few inches or so, then a leaf blower should do the trick nicely.
Can You Use a Cordless Leaf Blower for Snow?
Yes, you can use a cordless leaf blower for snow. There are many benefits to using a cordless leaf blower for snow, including:
You can easily maneuver the blower around your yard without having to worry about a cord getting in the way.
A cordless leaf blower is much lighter than a gas-powered snow blower, so it's easier to handle and won't tire you out as quickly.
Cordless leaf blowers are also much quieter than gas-powered models, so you won't disturb your neighbors while clearing your driveway or sidewalk.
What is the Best Leaf Blower to Remove Snow?
When it comes to removing snow, the best leaf blower is one that can produce a high volume of air flow. This will help to quickly blast away the snow and leave your surfaces clean. There are many different types and models of leaf blowers on the market, so it is important to do your research before making a purchase.
One type of leaf blower that is particularly effective at removing snow is the backpack leaf blower. These models are designed to be worn on your back, which frees up your hands for other tasks. Backpack leaf blowers also tend to be more powerful than hand-held models, making them ideal for larger jobs.
If you have a smaller area to clear, a hand-held leaf blower may be a better option. These models are lighter and easier to maneuver than backpack leaf blowers, but they may not be as powerful.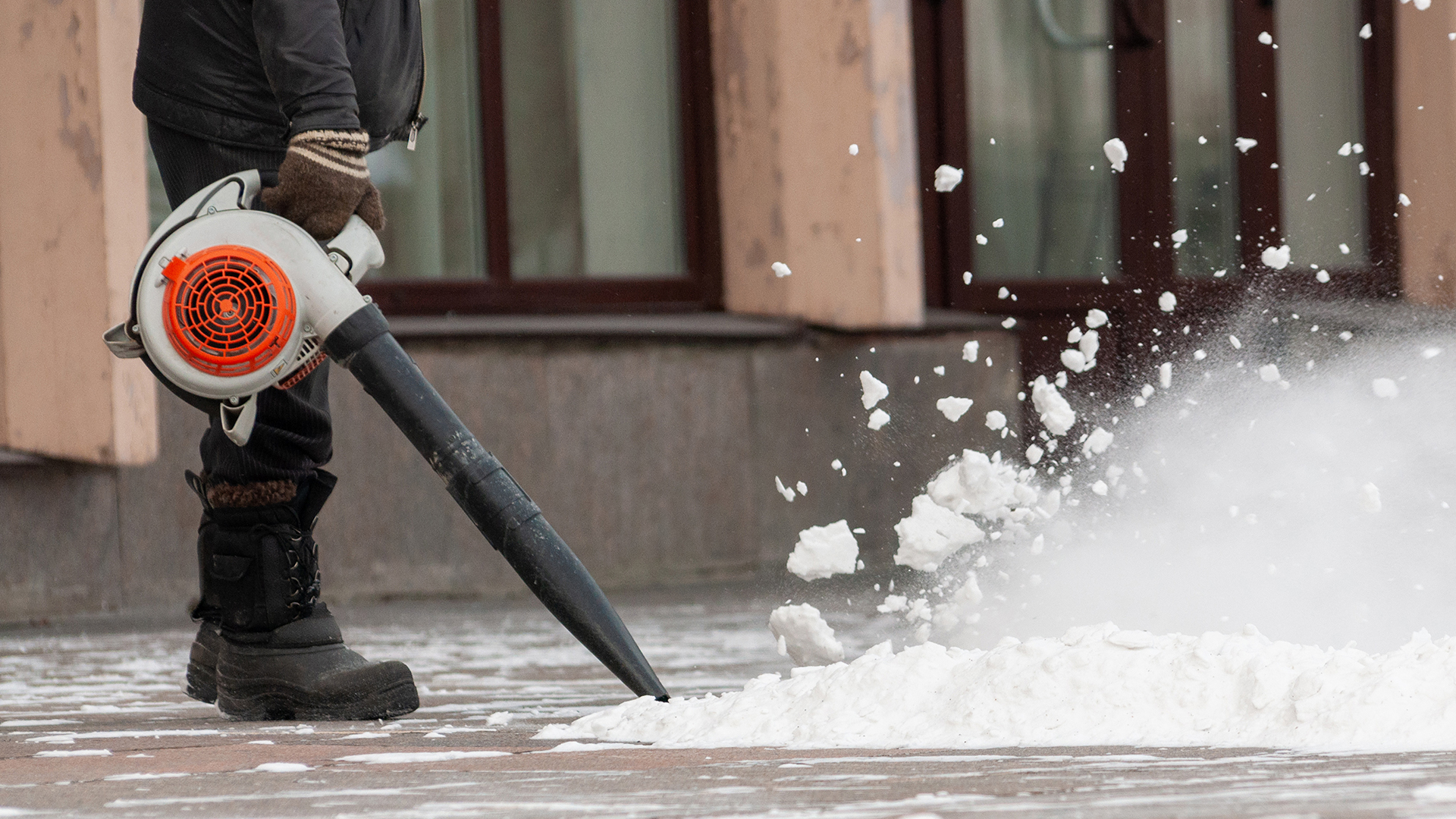 Can You Use a Leaf Blower for Snow on Car?
When it comes to using a leaf blower for snow on your car, there are pros and cons to consider. On the one hand, a leaf blower can be a quick and easy way to remove snow from your car. On the other hand, if you're not careful, you could end up blowing snow all over yourself – or worse, into oncoming traffic!
If you do decide to use a leaf blower for snow removal, there are a few things to keep in mind. First, make sure that the wind direction is blowing the snow away from you and not towards you. Second, start with the roof of your car and work your way down – this will prevent any melting snow from refreezing on your windows.
Finally, take your time and be careful not to damage your car's paint job. Overall, using a leaf blower for snow removal can be effective – but it's important to use caution and go slowly. What do you think?
Have you ever used a leaf blower for this purpose?
Leaf Blower Vs Snow Blower
When it comes to leaf blowers, there are two main types: electric and gas. Gasoline-powered leaf blowers are generally more powerful than electric models, making them better suited for large yards with lots of leaves. Electric leaf blowers are typically lighter and easier to use than gas models, making them a good choice for smaller yards or gardens.

Snow removal is a necessary evil for many homeowners during the winter months. While some may enjoy the process of shoveling snow, others would prefer to avoid it altogether. For those who would rather not deal with the cold and snow, a leaf blower can be used as an alternative method for removing snow from driveways and sidewalks.
Leaf blowers can be effective at clearing light snowfall from surfaces like sidewalks and driveways. However, they are not powerful enough to remove heavy snowfall or ice buildup. In addition, using a leaf blower to clear snow from your sidewalk or driveway can create dangerously icy conditions if not done properly.

If you decide to use a leaf blower to remove snow from your property, be sure to take extra caution and only use it on dry surfaces that have been cleared of debris.
Are Snow And Leaf Blower Combo Available?
Are you looking for a single machine to handle both your snow and leaf removal needs? If so, then you may be interested in a snow and leaf blower combo. These machines can be very helpful in clearing your property of debris quickly and easily.
There are a few things to consider when choosing a combo machine, such as the type of engine (gas or electric), the size and power of the unit, and the features that you need. Gas-powered models tend to be more powerful than electric ones, but they also require more maintenance. Electric models are typically smaller and lighter, making them easier to maneuver around your property.
When it comes to features, look for a model that has adjustable settings so that you can customize the airflow according to what you're blowing. Some units also come with built-in vacuums, which can be handy for collecting leaves and other debris. Other useful features include wheels for easy transport and on-board storage for holding extra bags or accessories.
To find the best snow and leaf blower combo for your needs, read online reviews from other users before making your purchase. This will give you an idea of which models are most popular and perform well in real-world conditions. With a little research, you'll be able to find the perfect machine to help keep your property clean all year long!
Conclusion
It's a question many of us have asked ourselves during a particularly snowy day: can I use a leaf blower to get rid of this snow? The short answer is yes, you can use a leaf blower for snow. But there are a few things you should keep in mind before you start blowing snow around your yard.
First, make sure that the leaf blower you're using is rated for cold weather use. Some leaf blowers are not designed to be used in freezing temperatures and could break if you try to use them in the cold. Second, dress warmly!
You'll be outside for awhile and you don't want to get too cold while you're working. And finally, be careful where you point that thing. Blowing snow into your neighbor's yard might not make them very happy.
So just be mindful of where the snow is going and you'll be all set.