Last Updated on January 13, 2023 by woodcutter
Chainsaw chains typically last anywhere from 20 to 50 hours of use. However, this can vary depending on the saw's model, the type of wood you're cutting, and how well you maintain the chain. Properly caring for your chainsaw chain will help prolong its life.
Chainsaw chains are one of the most important parts of the saw, and they need to be replaced regularly to keep the saw running smoothly. But how often should you replace your chainsaw chain? And how do you know when it's time to replace it?
Here are a few things to keep in mind when it comes to replacing your chainsaw chain:
1. The frequency with which you need to replace your chain will depend on how often you use the saw and what type of wood you're cutting. If you're using the saw every day for heavy-duty work, then you'll need to replace the chain more frequently than if you only use it occasionally for light work.
2. You'll know it's time to replace your chainsaw chain when it starts getting dull. A dull chain will cause the saw to bind up and can be dangerous to use. When sharpening doesn't improve the situation, then it's time for a new chain.
3. Chainsaw chains don't last forever, even if they're not used very often. Over time, the metal will wear down and eventually break. So even if you don't use your saw very often, make sure to check the condition of the chain periodically and replace it as needed.
4. When buying a new chainsaw chain, make sure that it is compatible with your saw model. Different models require different sizes and types of chains. Putting an incompatible chain on yoursaw can damage both the saw and the chain itself.
How Long Does a CHAINSAW CHAIN Last – When To REPLACE Chain
How Do I Know If My Chainsaw Chain is Worn Out?
Chainsaw chains wear out over time and with use. You'll know it's time to replace your chain when it becomes dull, isn't cutting as well as it used to, or is starting to fall off the saw. A worn-out chain can also break, which can be dangerous.
Inspect your chain regularly to see if it needs to be replaced. Here are some signs that your chainsaw chain is worn out:
1. The cuts are not as clean as they used to be.
2. The chips are smaller than usual.
3. It takes longer to make a cut than before.
4. The saw feels like it's bogging down when you're cutting.
Why Do My Chainsaw Chain Dull So Quickly?
There are a few reasons why your chainsaw chain might be dulling quickly. One reason could be that you're not using the correct file size when sharpening the chain. If the file is too small, it won't remove enough metal from the teeth and they'll become dull more quickly.
In other hand, If you're using a standard-cut chain on a softwood tree, for example, it will dull more quickly than if you were using a rip-chain on a hardwood tree. Second, it could be that your bar isn't properly lubricated. If there's not enough oil getting to the cutting surfaces of your chain, it will cause the metal to wear down more quickly.
Another possibility is that you're not holding the file at the correct angle when sharpening. The ideal angle is 30 to 35 degrees, but if you're holding it too flat against the tooth, it won't cut as effectively and will become dull more quickly. Finally, make sure you're lubricating the chain regularly with bar and chain oil.
This will help protect it from wear and tear and keep it sharper for longer.
How Often Do Chainsaw Chains Need to Be Sharpened?
Chainsaw chains need to be sharpened regularly to keep them in good condition and prevent them from becoming dull. The frequency of sharpening will depend on how often the chainsaw is used and what type of wood it is being used on. If the chainsaw is used frequently or on very hardwoods, then it will need to be sharpened more often.
A good rule of thumb is to sharpen the chain after every 10 hours of use.
Is It Worth Sharpening a Chainsaw Chain?
Chainsaws are one of the most versatile tools you can have in your arsenal. They can be used for a variety of tasks, from cutting down trees to trimming branches and more. But like any tool, they need to be properly maintained in order to work their best.
This includes sharpening the chain on a regular basis. So, is it worth sharpening a chainsaw chain? The answer is yes!
A sharp chainsaw chain will make cuts cleaner and easier, and will also help extend the life of your saw. It's important to note, however, that not all chains need to be sharpened after every use – only when they start to dull. If you sharpen your chain too often, you'll actually shorten its lifespan.
If you're not sure how often to sharpen your chain, consult your saw's owner's manual or ask a professional at your local hardware store. And when you do sharpen the chain, be sure to follow all safety precautions!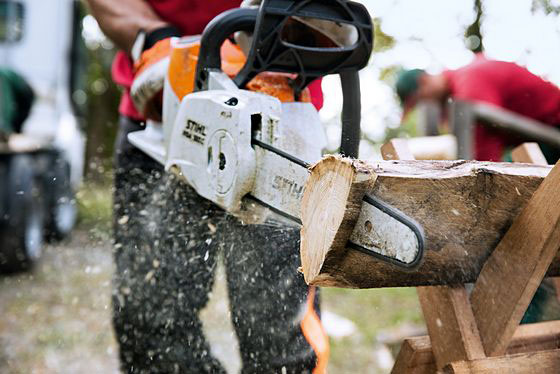 How Long Should a Chainsaw Chain Last before Sharpening?
Chainsaw chains need to be regularly sharpened to keep them working properly. But how often should you sharpen your chainsaw chain? And what are the signs that it's time for a new chain?
Here's what you need to know about chainsaw chain maintenance. How Often Should You Sharpen Your Chainsaw Chain? Ideally, you should sharpen your chainsaw chain after every 5-10 hours of use.
This will ensure that the chain stays sharp and can cut through wood easily. If you use your chainsaw frequently or for extended periods of time, you may need to sharpen the chain more often. Signs that it's time to sharpen your chain include:
The chain starts to bind or snag when cutting.
Chain produces sawdust instead of chips when cutting.
It takes longer than usual to make a cut.
Chain feels blunt when touch it with your hand.
How Long Should a Chainsaw Bar Last?
If you're a regular chainsaw user, you might be wondering how long your chainsaw bar should last. After all, it's one of the most important parts of your saw, and if it wears out, you'll have to replace it. So, how long should a chainsaw bar last?
The answer depends on a few factors, including how often you use your saw and what kind of wood you're cutting. However, in general, a chainsaw bar should last for several years with proper care. Here are a few tips to help prolong the life of your chainsaw bar:
Keep the chain sharp. A dull chain puts more strain on the bar and can cause it to wear out faster. So, be sure to keep your chain sharpened regularly.
Use a guide rail. If you're cutting lumber or logs that are too big for your saw, using a guide rail can help prevent the bar from getting damaged.
Avoid hitting rocks or other hard objects. This can damage the teeth on the chain and also cause premature wear on the bar itself. By following these tips, you can help ensure that your chainsaw bar lasts for many years to come.
Conclusion
Chainsaw chains don't last forever, but with proper care they can last a long time. Here are some tips on how to extend the life of your chainsaw chain. The first tip is to never use a dull chain.
A dull chain not only makes your saw work harder, it can also be dangerous. Always keep your chain sharpened and oiled. Second, avoid using your chainsaw in wet or humid conditions whenever possible.
Water and humidity can cause rust and other damage to the chain. Third, don't force the saw through tough cuts. If you're having trouble cutting through something, try repositioning the log or branch so that it's easier to cut through.
Forcing the saw can damage both the saw and the chain. Fourth, clean your chainsaw regularly. A build-up of sap, resin, or dirt can shorten the life of your chain by causing it to wear down more quickly.
Make sure to wipe down your saw after each use and give it a more thorough cleaning every few uses.